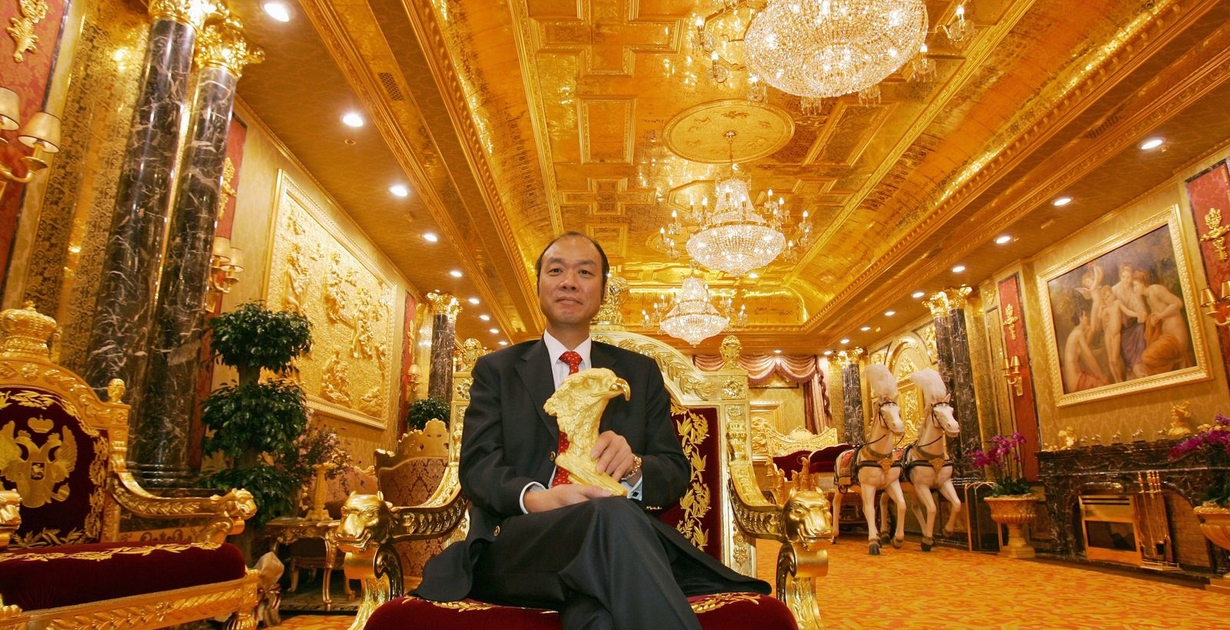 The Golden House of Hong Kong
15.01.2021
Where does wealth end and luxury begin? Where to draw the line between "expensive" and "luxurious"? For the head of the Hang Fung Gold Technology jewelry company Lam Sai-wing it is not a problem. Once he came up with the idea that everything that he touches must be made of pure gold.
Based on that principle, the company built an exclusive hotel in early 2000, where the entire interior is made of gold. The Swisshorn Gold Palace Hotel is in Hong Kong.
The hotel was built for commercial purposes. It was constructed and designed within five years, using two tons of gold worth $38 million.
Luxury for $3
One night in the Golden House cost $28000. A tour around the room costs only three dollars, but you have to pay extra for the opportunity to take a picture. Prior to visiting, it is necessary to put on shoe covers in order not to scratch the golden floor of the room with an area of 650 square meters.
Every room from floor to ceiling is covered with 14K gold leaf. Doors, windows, furniture and interior items are made of gold. The hotel's mirrors and chandeliers glitter, while the cutlery and crockery are made of gold.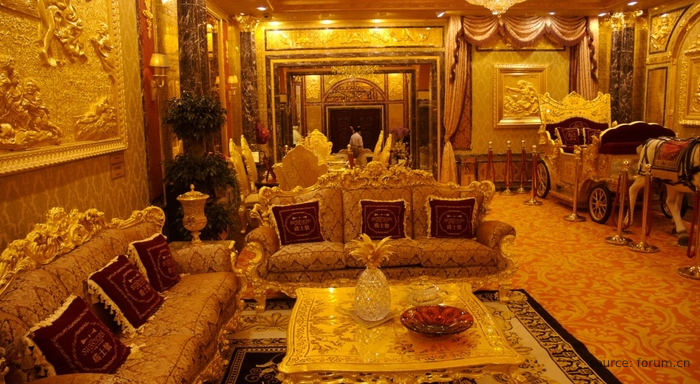 In the photo: the landmark is popular with tourists.
Guests rarely stay for a night in the famous hotel. Basically, it is a venue for weddings and corporate events. The Golden House is visited by 3000 tourists daily.
The communism-inspired business
Lam Sai-wing grew up in continental China, in a poor family.
At the age of 21, the jeweler moved to Hong Kong. After a few years of hard work, he bought a small shop and later became very rich. His first impressive project was a public toilet, decorated with 24K gold. Its construction cost £13 million. It was massively popular among tourists.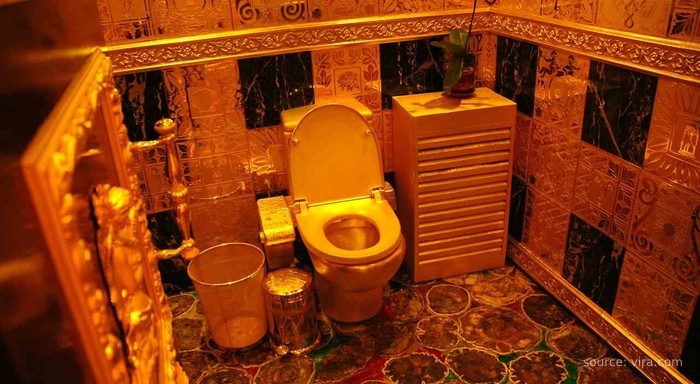 In the photo: the golden toilet, an entrance fee – $20.
Lam quickly realized that gold is the best solution. The crisis of 2008 has undermined the company, but gold has grown significantly in price. The price increase of gold certainly made things easier, improving the situation.
The millionaire from Hong Kong adores gold, for him it is a source of wealth and also infinite spiritual power and vital energy. What will be the next gold project?
Read about the:
Golden Throne of the Emperors of China