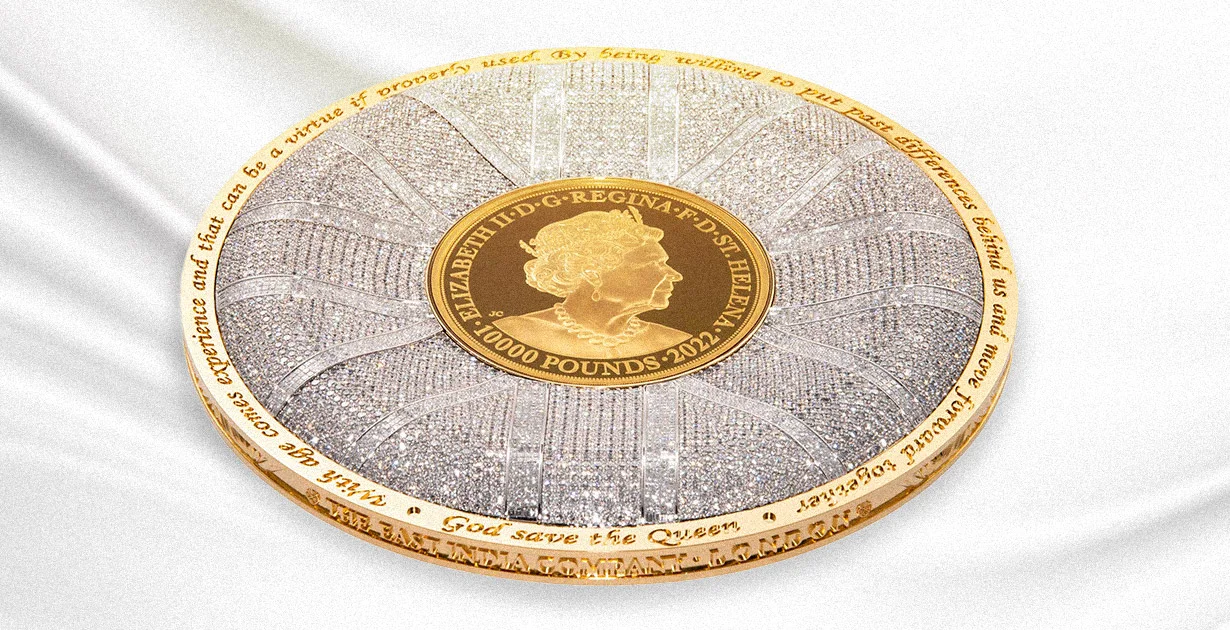 Gold coin in honor of the Queen: it weighs almost 4 kilograms!
20.10.2023
Average reading time — 3 minutes
The unique gold coin, encrusted with diamonds, was produced by the East India Company in anticipation of the anniversary of the death of Queen Elizabeth II of Great Britain. Initially, the release of the precious item was planned to coincide with the 70th anniversary of the monarch's reign: the work began during her lifetime and took 16 months.
The size of the coin is amazing: its diameter exceeds 9 and a half inches (or 25 centimeters), and it weighs almost 4 kilograms! This masterpiece is, of course, not cheap. The manufacturer estimates its cost at $23 million.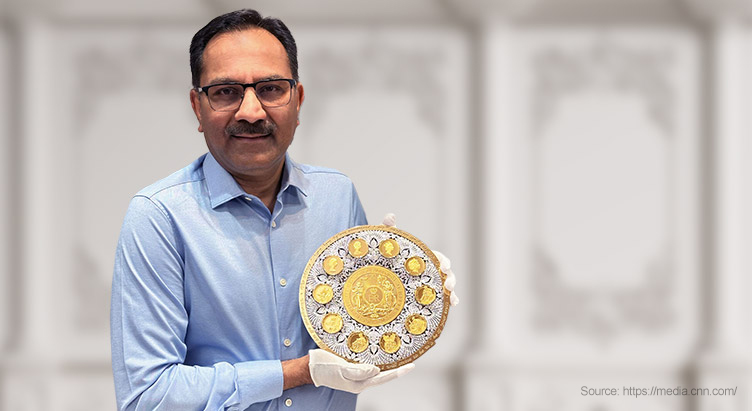 In the photo: Businessman Sanjiv Mehta, who acquired the rights to East India Company in 2005, poses with the diamond-encrusted coin.
The obverse of the coin is decorated with a profile of the monarch, designed by Jodie Clark. The embossed portrait was created in 2015. It shows Elizabeth II wearing a tiara from her coronation.
Thousands of shining diamonds arranged in the pattern of flag of the United Kingdom surround the portrait. The edging is engraved with memorable quotes from the monarch and the phrase "God Save the Queen."
The design of the reverse side of the product includes 11 gold coins. The central coin weighs about 1 kilogram (more than 2 pounds), and each of the 10 smaller coins weighs almost 300 grams.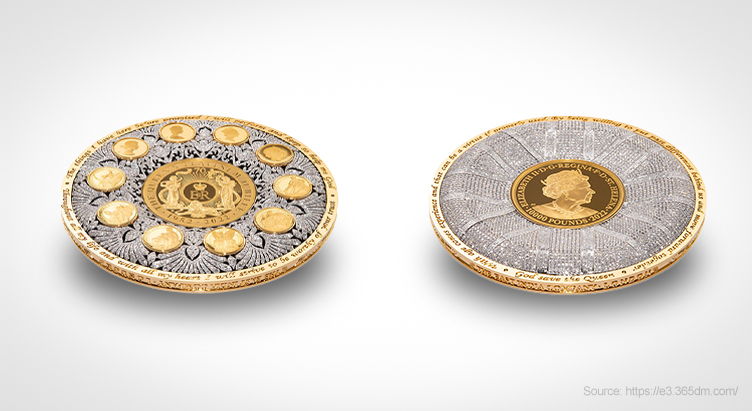 In the photo: the reverse and obverse of the coin.
4 out of 10 coins depict portraits of Elizabeth II, which were painted by famous artists at different periods of her life. The remaining 6 reflect the qualities that were attributed to the queen: justice, honesty, victory, mercy, constancy and courage. The free space between the coins is encrusted with diamonds, and the design resembles the queen's tiara.
To make the coin, 3.61 kilograms of 999.9 fineness gold and 6,426 diamonds were used. All work was carried out manually, without the help of automated devices.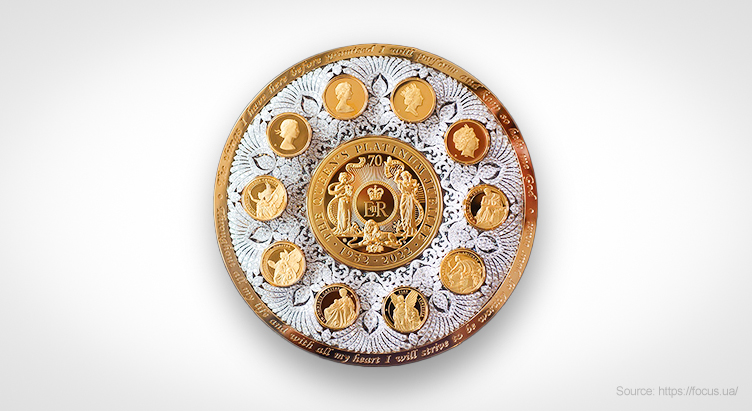 In the photo: the reverse of the coin (close up).
83 professionals from around the world worked to create this masterpiece. The design was developed in the UK and Sri Lanka. The gold ring around the coin was produced in India, and the "internal" coins were minted by specialists in Germany and the Netherlands. The diamonds were certified in the USA, and cut and polished in Canada, Australia and South Africa. Engraving was carried out by jewelers in Singapore, and assembly into a single composition was carried out in India.
This coin is a true work of art, embodying the admiration and adoration that the Queen's subjects felt for her. In addition, according to some experts, it may become the most expensive coin in history.
Read also the article:
Golden literature of the British Library