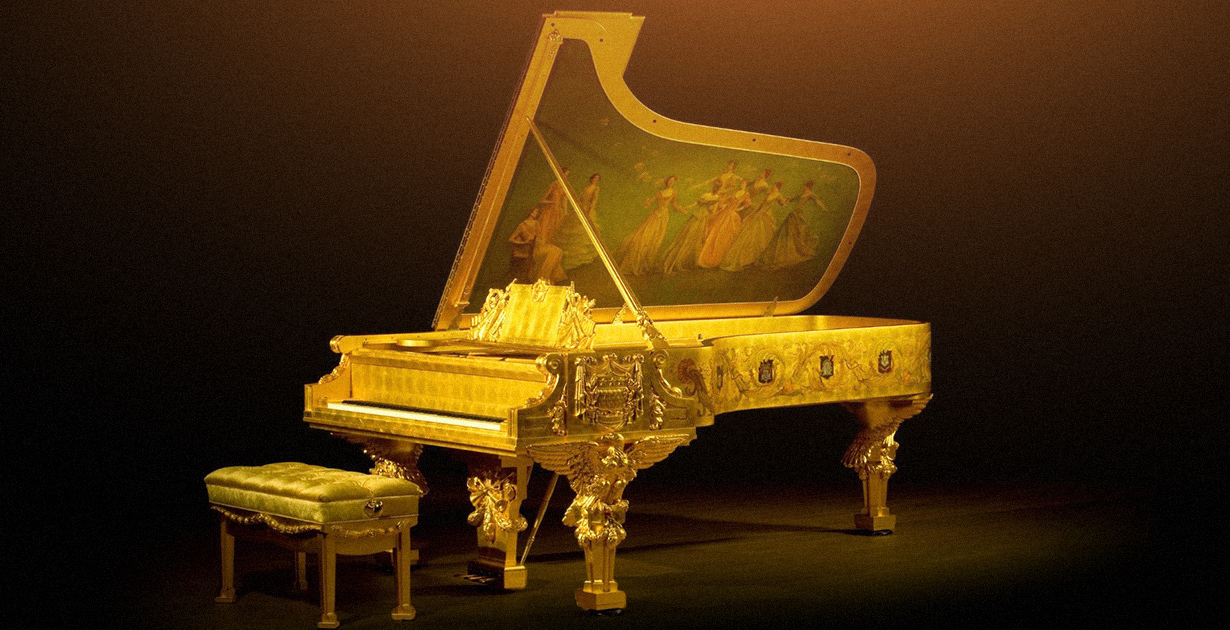 Pianos for which no gold was spared
29.09.2022
Average reading time — 3 minutes
Bösendorfer Opus 50,000, price: $750,000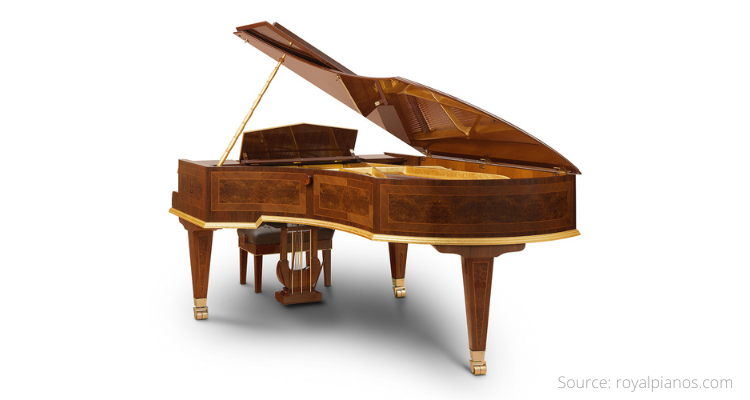 In the photo: 24K gold decorations are hand-applied to the surface of the piano.
Bösendorfer* grand pianos are a real treat for pianists, as they always combine perfect form, great sound and sophisticated elegance.
*Bösendorfer is one of the oldest brands in the world that has been producing top class grand pianos since 1828.
Marking the 185th anniversary of the factory, the company's representatives decided to produce a jubilee 50,000th copy made of exquisite wood species: maple, pear tree and walnut.
The best craftsmen worked on the concept of creating a piano, taking as a basis the famous instruments, made by Theophil Hansen and Anton Grosser, that once conquered the world with their beauty.
The grand piano is elegantly decorated with gold: only this precious metal could emphasize the luxury and nobility of the instrument. Golden caryatids (in Ancient Greek, Καρυάτιδες means chestnut-trees) are refined sculpted female figures that adorn the front of the musical instrument. The craftsmen cast the female statues from bronze and gilded them with 24K gold.
The design of the grand pianos belongs to the neoclassical style and combines advanced technology and the highest craftsmanship.
Intricate handiwork, Austrian sound and architectural philosophy blend together in a real work of art.
Blüthner Supreme Edition with 24K gold encrusted lid (custom-made), price: $420,000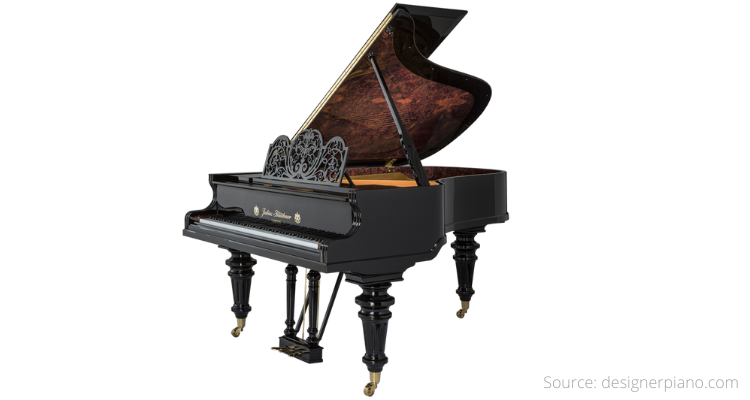 In the photo: the standout instrument highlights the company's commitment to excellence in every way.
Grand pianos and Blüthner* pianos are passed down from generation to generation and are considered valuable family heirlooms.
Blüthner* is a respectable family-owned piano-manufacturing company founded 169 years ago by Julius Blüthner.
Any instruments of the German brand, even those that differ from the traditional ones and are considered rather experimental, stand the test of time, arousing great interest among many professionals.
Blüthner could not refuse using gold and created a real masterpiece inlaid with the valuable metal. The branded musical instrument exists only in one copy and has no analogues.
True connoisseurs of beauty will not remain indifferent: when a musician opens the black lid of the piano, a stunning picture made of gold appears before the viewer.
The embellishment of each Blüthner instrument takes on the most whimsical artistic forms and helps connoisseurs of beauty realize a world-class aesthetic vision.
Read also: