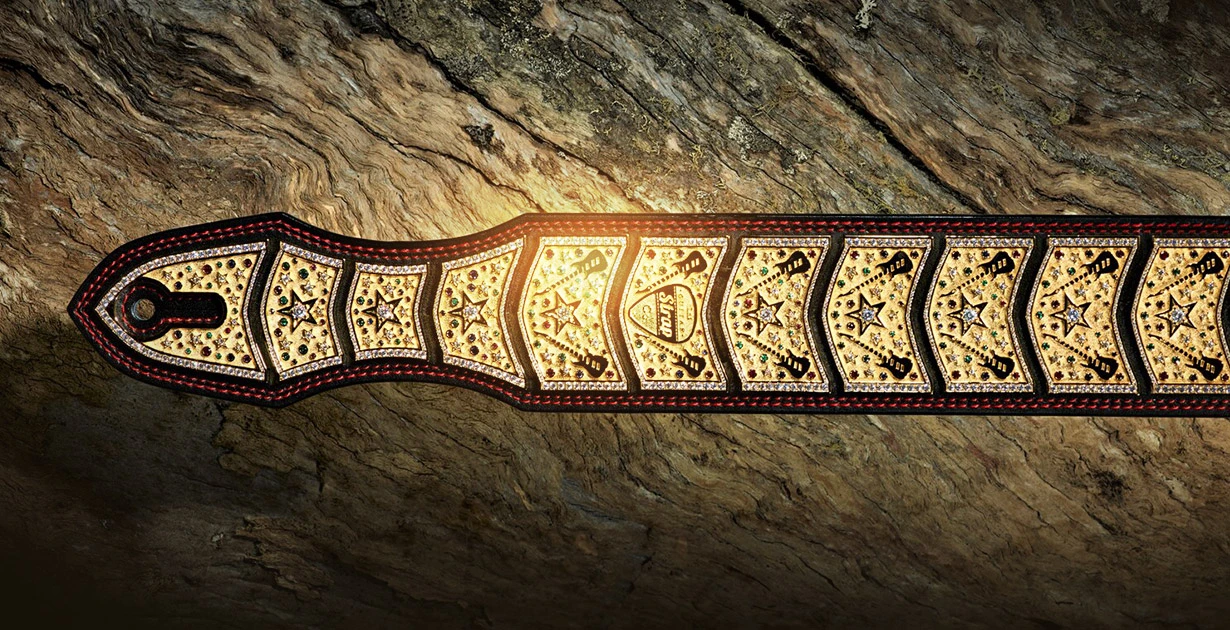 It screams rock and roll: a gold guitar strap that costs $1,200,000
21.09.2023
Average reading time — 3 minutes
Thousands of years ago, even the most imperious rulers could not resist its brilliance — incomparable gold still does not leave millions of people indifferent. The noble metal, which withstood the test of time, natural forces and trends, has more and more new artistic embodiments. Australian artist Colin Burn presented another masterpiece to connoisseurs of gold art: he created a guitar strap, the price of which is estimated at $1,200,000.
Precious facts
The main material for making the strap is genuine leather; the creation is almost completely covered with elements made of 18K yellow gold and decorated with a scattering of precious stones. Crystal clear diamonds, deep blue sapphires from the island of Ceylon, strikingly deep colors of emeralds and rubies — all combined in one exclusive product.
The Showstopper is a one-of-a-kind strap; it has been officially named the world's most expensive guitar strap ever. More than 1 kg of 18K gold was used to make it, and the total value of the precious stones is over 30 carats.
The price of the precious accessory is as impressive as its jewelry component: it is estimated at $1,200,000. The presentation of the opulent belt was attended by world famous rock stars, including Chloe Trujillo, Orianthi, Lita Ford and Jared Dines.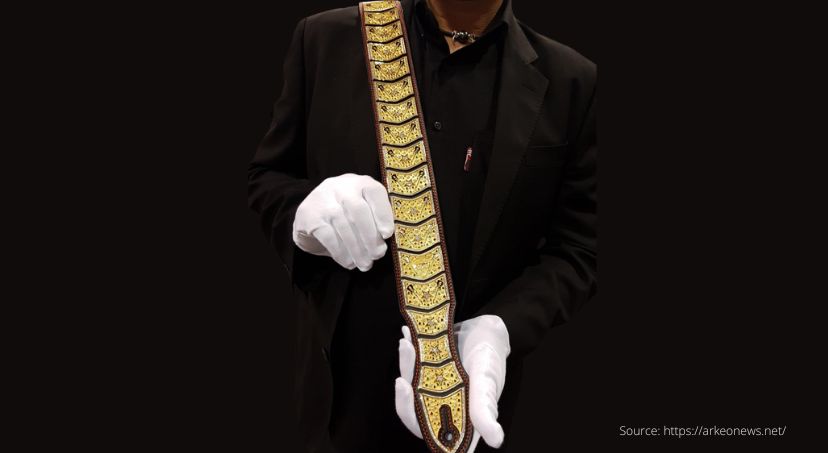 Shocking Colin Burn
The chic gold belt is not the first outstanding creation of Australian artist Colin Burn. He is considered a genius of modern jewelry and a provocateur; each new masterpiece has a spellbinding effect, making people gasp in admiration.
As the artist himself notes, a conversation with his musician friends, Mike and Tony, inspired him to create the Showstopper. They are the owners of the Guitar Strap Company, one of the business activities of which is the sale of original guitar straps. The artist tried to pay homage to rock and roll by creating his masterpiece.
He designed a model infused with images of guitars, stars and spotlights, and embellished it with precious stones. The creator wanted the accessory to be in the style of Nudie Cohn, an outstanding American tailor who created stage costumes for Elvis Presley, Elton John, the Rolling Stones and other world-famous rock performers. We can say with confidence that he managed to fully realize all his goals.
Gold resonates with many, but when it appears in the guise of an unprecedented jewelry masterpiece, it simply cannot leave people indifferent. Now the atmosphere of rock and roll that is accustomed to the shine of cold steel will be warmed by the golden rays of the enchanting Showstopper. Yet another masterpiece by Colin Burn has been a success, and its high price is hardly the most surprising fact.
Read also the article:
Chess — it will be hard to take your eyes off it